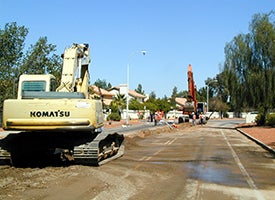 Capital Improvement Projects
Capital Improvement Projects (CIPs) are additions to the Community's public infrastructure.
The Capital Projects Division works with all City Departments to facilitate and administer coordinated project management, design, inspection, and construction for projects contained in the City's Capital Improvement Program (CIP). These projects are planned and built for a variety of public purposes, such as streets, stormwater management, parks, public buildings, water and wastewater systems.
The various City departments propose CIP projects for City Council approval. Once approved, Capital Projects manages the projects and the applicable client department funds the related expenditures through the CIP program budget.
Typical Schedule
The amount of time it takes to design and build a project varies from a few months to several years.  Here is an example of a typical project timeline:
The need is identified, and sometimes includes studies or models.

Project scope, schedule, funding, and resources are determined.

Design services are procured and design commences.

Survey, soil analysis, traffic studies, etc. are performed, as needed.

Property is acquired, if necessary.

Design is completed, estimates are refined, and necessary permits obtained.

Construction services are procured and construction begins.

The project is constructed with oversight, testing, and monitoring.

The new improvements are approved, and warranty period begins.

The City accepts ownership of the new public infrastructure, and begins operations and maintenance.
Procurement
The City's procurement requirements are outlined in City Code, State Law and may have additional requirements dependent on the type of project and the funding sources.
If you are interested in opportunities to provide design, construction, or construction management services for capital improvement projects with the City of Chandler, visit our Constructions Bids and Requests for Qualifications pages:
Additional Resources and Template Documents
If you are already providing services, here are current forms and templates for reference:
Payment Application Forms