Each day, City of Chandler Water Quality Specialists perform up to 100 tests on the drinking water you receive at your home or business. These tests ensure that your water meets every health and safety standard set by the state and federal government.
Review the information to help you make an informed decision about your drinking water.
2022 Water Quality Report - [English | Spanish]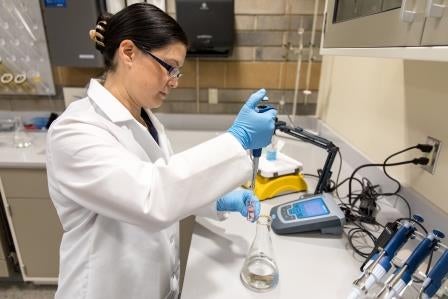 In the United States, the Environmental Protection Agency protects drinking water quality through the administration of the Safe Drinking Water Act. Chandler operates a state licensed laboratory that analyze samples of the City's drinking water and wastewater for operational parameters and regulatory compliance. For more information, call 480-782-3655.
Water Quality works to ensure compliance with all drinking water regulations and wastewater aquifer protection and reuse permits, and maintains the required records.  For more information, call 480-782-3617.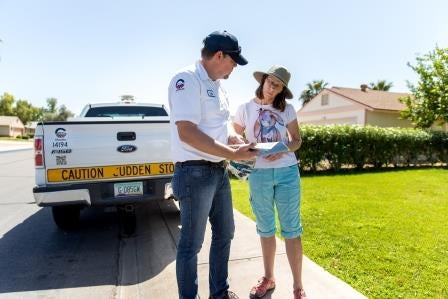 Is someone at your door asking to test your water? Here are easy steps to see if they're from the City's Water Department:
1. City staff always will be identifiable with a City uniform with a City of Chandler logo as well as their ID badge with a photo.
2. City staff will be driving a City vehicle - clearly marked with the City of Chandler logo. If you're ever in doubt, call 480-782-3660. Representatives are ready to answer your questions about the City's drinking water supply.
Recently, there has been both state and national attention to lead in drinking water. If present, elevated levels of lead can cause health problems, especially for pregnant women and young children. Lead typically enters the drinking water due to the corroding of materials and components beyond the City's delivery point, which includes private service lines and internal plumbing of homes and buildings. The City of Chandler is committed to providing safe, high-quality drinking water to its citizens, but cannot control the variety of materials used in home or commercial plumbing components.
To help ensure lead safety, the City of Chandler adheres to the EPA's Lead and Copper Rule by meeting all sampling and reporting requirements. Results from those samples show that Chandler continues to remain well below the EPA action levels for lead and copper.
More information on lead in drinking water is available on the EPA's website.
Chromium-6 can be naturally occurring, or the result of certain industrial activities such as metal plating. The U. S. Environmental Protection Agency (EPA) limits Chromium-6 as part of total chromium limits. The current limit for total chromium is 100 parts per billion (ppb). Chandler's total chromium levels are well below the EPA standard, averaging 5.32 ppb (nearly 95 percent below the current allowable limit set by the EPA). For more information on Chromium-6 in drinking water, visit the information on Chromium in Drinking Water on the EPA's website.
The federal government has released new guidelines for the disposing of pharmaceuticals. To learn more about the suggested method of disposing pharmaceuticals and unused prescription drugs, please visit the Arizona Department of Environmental Quality.
Water Quality Field Services
This program ensures that backflow prevention devices are properly installed, maintained and inspected. For more information, call 480-782-3660.
The City of Chandler's Industrial Pretreatment Section is responsible for enforcing all Federal, State, and Local environmental regulations authorized by the Clean Water Act. This includes monitoring and inspection of all Significant Industrial Users (SIUs) within the City. The Pretreatment Division is also responsible for inspecting oil and grease interceptors at all commercial facilities within the City. For more information, call 480-782-3720.
 
The Water Distribution Division installs and maintains hydrant meters. For more information, call 480-782-3700.
1. Clean faucets and aerators regularly
2. Clean and disinfect sinks and drains regularly
3. Keep drains clear and unclogged
4. Use cold water for drinking and preparing food
5. Replace old plumbing and install certified "lead free" fixtures
6. Flush cold water taps after household plumbing work or when the water hasn't been used for several days
7. Drain and flush your hot water heater annually
8. Follow the manufacturer's instructions for the water heater, filters, treatment devices, softeners and any other products attached to the water system
9. Do not connect hoses or other devices intended for non-drinking purposes to household drinking water faucets
10. Keep hazardous chemicals and unsanitary materials away from drinking water faucets
Agencies that Regulate Chandler's Drinking Water:
Drinking Water Regulations:
Consumer Confidence Reports from neighboring cities: