Each day, City of Chandler Water Quality Specialists perform up to 100 tests on the drinking water you receive at your home or business. These tests ensure that your water meets every health and safety standard set by the state and federal government.
Review the information to help you make an informed decision about your drinking water.
2019 Water Quality Report - [English | Spanish]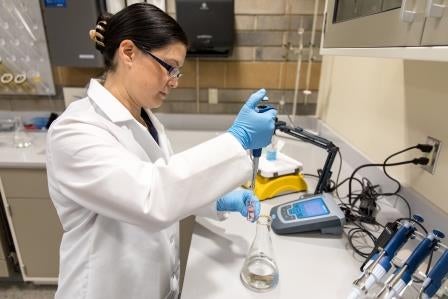 In the United States, the Environmental Protection Agency protects drinking water quality through the administration of the Safe Drinking Water Act. Chandler operates a state licensed laboratory that analyze samples of the City's drinking water and wastewater for operational parameters and regulatory compliance. For more information, call 480-782-3655.
Water Quality works to ensure compliance with all drinking water regulations and wastewater aquifer protection and reuse permits, and maintains the required records.  For more information, call 480-782-3617. 

Water Quality Field Services
This program ensures that backflow prevention devices are properly installed, maintained and inspected. For more information, call 480-782-3660.
The City of Chandler's Industrial Pretreatment Section is responsible for enforcing all Federal, State, and Local environmental regulations authorized by the Clean Water Act. This includes monitoring and inspection of all Significant Industrial Users (SIUs) within the City. The Pretreatment Division is also responsible for inspecting oil and grease interceptors at all commercial facilities within the City. For more information, call 480-782-3733.
The Water Distribution Division installs and maintains hydrant meters. For more information, call 480-782-3700.
1. Clean faucets and aerators regularly
2. Clean and disinfect sinks and drains regularly
3. Keep drains clear and unclogged
4. Use cold water for drinking and preparing food
5. Replace old plumbing and install certified "lead free" fixtures
6. Flush cold water taps after household plumbing work or when the water hasn't been used for several days
7. Drain and flush your hot water heater annually
8. Follow the manufacturer's instructions for the water heater, filters, treatment devices, softeners and any other products attached to the water system
9. Do not connect hoses or other devices intended for non-drinking purposes to household drinking water faucets
10. Keep hazardous chemicals and unsanitary materials away from drinking water faucets
Agencies that Regulate Chandler's Drinking Water:
Drinking Water Regulations:
Consumer Confidence Reports from neighboring cities: