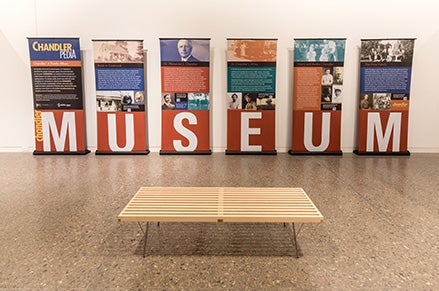 The Chandler Museum is a cultural destination unlike any other with engaging, community-focused programs and forums, as well as world-class traveling exhibits.
The museum is a 10,000-square-foot facility just north of the historic McCullough-Price house with nearly 13,000 square feet of outdoor spaces, including a 10,000 square-foot courtyard that ties the two buildings together and provides a shaded gathering place for visitors and outdoor programming.
Renovations to the historic house created a formal state-of-the-art research and archive site for the Museum while maintaining its status on the National Register of Historic Places. Together, the project establishes a City of Chandler iconic cultural facility with easy to access to the 101 and 202 freeways, in close proximity to vast shopping and dining options, and a growing area that is being developed for residents and tourism.
Gaman: Enduring Japanese American Internment at Gila River
Dec. 8, 2018- April 18, 2020

During World War II more than 16,000 Japanese Americans were forcibly removed from the west coast to Gila River Internment Camp, near Chandler, simply because they looked like the enemy. This poignant exhibit demonstrates how the Japanese value gaman, enduring the seemingly impossible with patience and dignity, guided these American citizens, through loss and incarceration in the Arizona desert. 
History of Walls: The Borders We Build
Jan. 14 - March 1, 2020

For as long as there have been nations, those nations have built walls. This exhibit explores four significant historic walls built by nation-states—the Great Wall of China, the Berlin Wall, the Israel/West Bank Barrier, and the US/Mexico Border Wall—by way of understanding these feats of architecture in their historical, cultural, and political context. The exhibit explores each wall through words, images, video, and written interactives. Presented in both English and Spanish. A History of Walls: The Borders We Build is an Overland Traveling Exhibit.