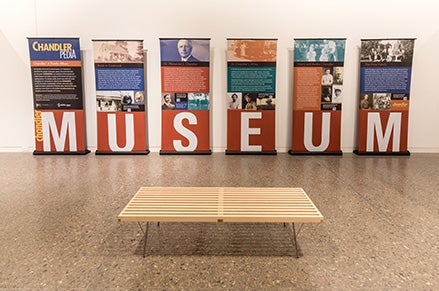 The Chandler Museum is a cultural destination unlike any other with engaging, community-focused programs and forums, as well as world-class traveling exhibits.
The museum is a 10,000-square-foot facility just north of the historic McCullough-Price house with nearly 13,000 square feet of outdoor spaces, including a 10,000 square-foot courtyard that ties the two buildings together and provides a shaded gathering place for visitors and outdoor programming.
Renovations to the historic house created a formal state-of-the-art research and archive site for the Museum while maintaining its status on the National Register of Historic Places. Together, the project establishes a City of Chandler iconic cultural facility with easy to access to the 101 and 202 freeways, in close proximity to vast shopping and dining options, and a growing area that is being developed for residents and tourism.
Apron Strings: Ties to the Past
Nov. 12, 2019 - Jan. 5, 2020

Only one garment invokes both outrage and nostalgia:  the apron. Apron Strings:  Ties to the Past is an exhibition that explores the apron's role over the past century, from practical purposes through the June Cleaver era and their abandonment in feminist culture.
Gaman: Enduring Japanese American Internment at Gila River
December 8, 2018- April 18, 2020

During World War II more than 16,000 Japanese Americans were forcibly removed from the west coast to Gila River Internment Camp, near Chandler, simply because they looked like the enemy. This poignant exhibit demonstrates how the Japanese value gaman, enduring the seemingly impossible with patience and dignity, guided these American citizens, through loss and incarceration in the Arizona desert. 
Food Stories
Dec. 4 | 7-8:30 p.m.

Many of us have fond memories of preparing food with our family members and wonder why we never wrote down the recipes and stories. In this oral storytelling space, recipes are more of a learning process rather than a strict adherence to a recipe card. In this same space, we hear stories that reflect generational knowledge about food preparation and even the history of our favorite family recipes. In this workshop, we'll look more closely at the opportunities for storytelling in food spaces. We'll share our favorite recipes and think about how food narratives function as an important part of our family history. 

Presented by Arizona State University Professor Vanessa Fonseca-Chávez and Chandler-Gilbert Community College Faculty Erica Acevedo-Ontiveros.